LA's Top Luxury Brokers
Multi-course dinners, brandy tastings and even the odd theme party are among the fêtes high-end brokers throw in the hopes of drawing the right clientele.
And while some ostentatious events were always part of the game, there's an increasing urgency to the sales pitch these days. The top luxury brokers in Los Angeles said the market is moving to extremes, with even more overpriced luxury homes on the market than ever. High-end buyers are looking for value and want properties with more land and less house, while sellers are largely unrealistic in their pricing expectations, brokers said.

To get a better sense of what's happening in the luxe market, TRD ranked the industry's highest-performing luxury market players, analyzing single-family home sales of $4 million and higher to identify the 20 top-producing agents from March 1, 2017, through Feb. 28, 2018. Agents were credited with both listing and buying sides, including deals where they were the co-broker; an agent who represented both parties received full credit for each side.
Topping the ranking was Westside Estate Agency's Kurt Rappaport, with over $627 million in sales. He was followed by Chris Cortazzo of Coldwell Banker Residential with $530 million in sales. Hilton & Hyland's Drew Fenton placed third with almost $407 million in sales, and in fourth place, couple-slash-team Rayni and Branden Williams of Hilton & Hyland landed over $403 million in sales over the 12-month period.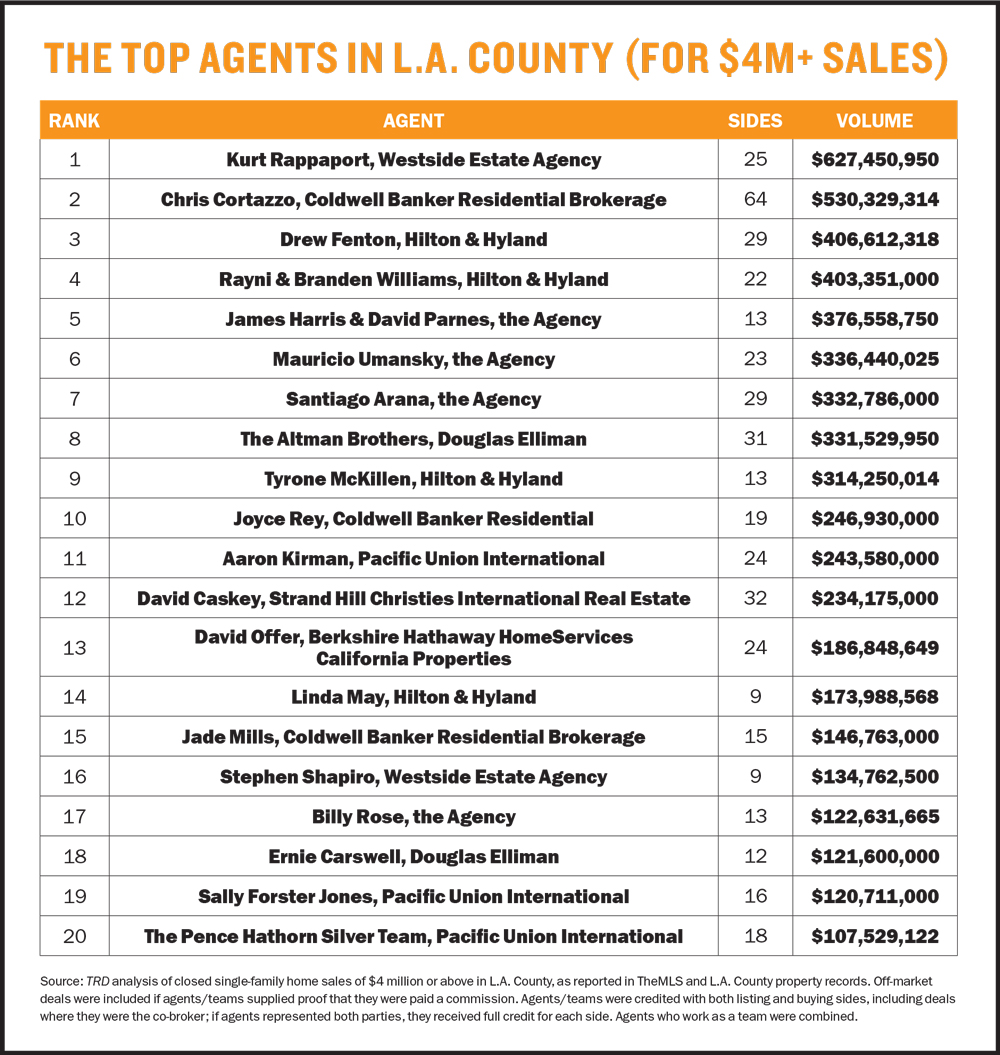 The brokers' astronomical sales volumes and recent data reports suggest there are many deals to be done at the top of the market. In the fourth quarter of 2017, the number of closed luxury home sales was up 7.6 percent year over year. Those homes went fast, sitting on the market for an average of 83 days — 40 less than over the same period the year before.
But buyers are not ponying up as much as they used to, considering that the median luxury home sale price in Q4 of 2017, $8.9 million, was down 17.3 percent from the same time the year before.
Brokers say it's been a persistent struggle to get luxury sellers to lower their pricing expectations.
"There's a lot of good property, but there's also a lot of bad property and a lot of overpriced property," said Pacific Union International broker Aaron Kirman, who snatched the No. 11 spot in TRD's analysis, bringing in nearly $243.6 million in sales.
"We're seeing a disconnect between sellers who want to get the most from their house and buyers who want to get a value even at the upper level," he said. "Agents used to price high to get media attention and get something sold, but I think that game is running cold."
Some homes may be listed for eye-popping numbers, but they eventually sell for much less, Kirman said, estimating that homes listed for $60 to $100 million sell for tens of millions less, with only a few exceptions.
But Coldwell Banker's Jade Mills, who took the No. 15 spot in the ranking with nearly $147 million in sales, said some of her sellers are seeing interest in their properties even with sky-high asking prices.
"Because of the low inventory, we have a little more urgency than we did before," Mills said. "People are willing to make an offer, even if they thi