Say Goodbye to Older Internet Explorer Versions as of January 12, 2016
In all their infinite wisdom our friends at Microsoft have decided to stop supporting older version of Internet Explorer and focus only on IE 11 and above.
Officially this is what they say "Beginning January 12, 2016, only the most current version of Internet Explorer available for a supported operating system will receive technical supports and security updates. Internet Explorer 11 is the last version of Internet Explorer, and will continue to receive security updates, compatibility fixes, and technical support on Windows 7, Windows 8.1, and Windows 10."
Why you ask?? IE 11 as Internet Explorer 11 offers improved security, increased performance, better backward compatibility, and support for the web standards that power today's websites and services. Microsoft encourages customers to upgrade and stay up-to-date on the latest browser for a faster, more secure browsing experience.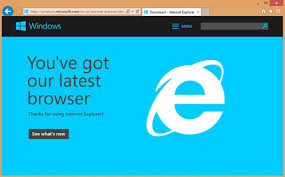 What it means for our clients. It means you should take action. After January 12, 2016, Microsoft will no longer provide security updates or technical support for older versions of Internet Explorer. Security updates patch vulnerabilities that may be exploited by malware, helping to keep users and their data safer. Regular security updates help protect computers from malicious attacks, so upgrading and staying current is important.
We say bravo Microsoft and welcome to the new millenium. For more details on Microsoft Edge and downloading IE 11 click link below:
https://www.microsoft.com/en-us/WindowsForBusiness/End-of-IE-support